I have had quite the dilemma with window treatments in our family room & breakfast nook. We have a big, long wall that connects the two spaces with a really big window and a sliding door. I've looked at many different drapery options and have had a really difficult time finding a solution that was affordable and looked good.
I tried drop cloth drapes but found them too boring.
Then I made striped drapes, but though a whole wall of striped drapes would be too much.
I stressed and obsessed over the issue.
Finally a friend suggested color block drapes after seeing this image on Houzz…
 Perfect solution!
After hours of sewing, ripping out seams, and re-sewing, the new drapes are done!
I'm very pleased with how they turned out. The colors look absolutely perfect in our house.
They are fully lined to block out some of the massive afternoon sun we get on this side of the house in the summer.
Good thing they turned out nicely because they were a total fiasco to make!
Here some other good looking color blocked drapes I found when I was searching for a solution to our window covering issue…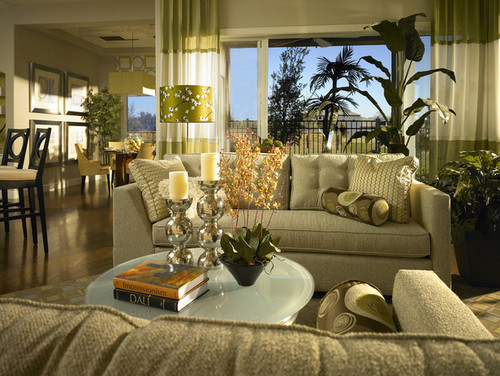 So many pretty options…